We Offer An Approved Disinfecting Solution For
The Coronavirus and Influenza
Save 10% off disinfecting services. For new customers only.
Commercial Cleaning Services
Keep Your Office Looking Its Best
At AC's Janitorial Service, we know that your office is a representation of your company. To keep it looking its best, we offer commercial cleaning services by our professional team to companies in Brevard and surrounding areas of Western North Carolina.
Every one of our employees understands the importance of doing their jobs to the highest standards in order to meet your individual needs. Using advanced procedures and the latest technology, we make sure that you and your staff have a clean and healthy environment to work in. We care about cleaning, and it shows in our work, our commitment, and our accountability.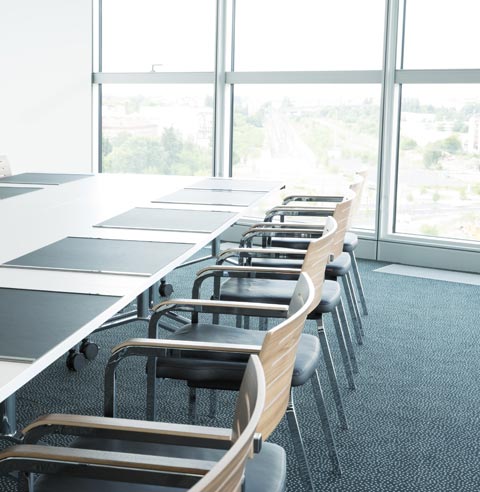 Reap Benefits by Hiring a Local Cleaning Company
As a local commercial cleaning company, we can offer the flexibility to meet your needs. Whether you need one-time, weekly, or bi-monthly commercial cleaning services, we'll get the job done to your complete satisfaction. And since every business has different requirements, we offer different cleaning options. Our office cleaning services include restrooms, kitchens, and break rooms. We also provide commercial floor cleaning in North Carolina such as routine and specialized carpet cleaning, vacuuming, spot cleaning, and shampooing. We'll also clean fabric partitions (including cubicle walls), as well as windows and furniture.
We offer special seasonal promotions as well. For example, we can help keep your office free of germs through carpet cleaning, desk polishing, and phone sanitation during cold and flu season. It's a small step that can pay big dividends in productivity and employee morale.
AC's Janitorial Service is trusted by many companies throughout the Brevard area. We're especially known for our quick response. Choose us and you'll quickly see why customers rely on AC's Janitorial Service for healthier commercial cleaning, dependable communication, and consistent service.
Our staff is always ready to answer your questions or address your concerns. We believe in effective communication and it shows in the relationships we've built with our clients. Call us now to see how we can help your commercial space stay cleaner and healthier.
Interior Cleaning Services
General Cleaning
General cleaning includes the routine tasks that are needed to keep your workspaces tidy and attractive. This is a surface cleaning that will remove dust, cobwebs, and the everyday buildup that results when you have employees and/or customers traveling in and out of your facility. Consider this the regular maintenance you need to do to keep your commercial or industrial facility at its best.
Restroom (Including Supplies)
Clean restrooms are vital to the health of your business. You want your restrooms to be sanitary, but you also want them to be comfortable for your employees, customers, and visitors. Our cleaning service will give your restrooms a deep cleaning on the schedule you need. We'll also help you stay well-stocked with paper products and other supplies.
Kitchen and Break Rooms
Kitchens and break rooms are two other areas where cleanliness really counts. Keep them looking their best so the people in your office or facility will have adequate space for cooking, eating, or taking a break. Our staff will make sure all areas of your kitchens or break rooms are clean, fresh, and appealing.
Carpet Care
Vacuuming
Spot Cleaning
Shampooing
Did you know that carpet is the most commonly found flooring surface in today's offices? Just like the carpet in your home, it can show its age if it's not taken care of. Although office carpet is typically more durable, it also must stand up to more foot traffic on a daily basis. Regular vacuuming, spot cleaning, and shampooing are important for keeping your carpet sanitary and attractive. Let us do the dirty work for you!
Floor Care
Marble
Terrazzo
Cement
Wood
Vinyl
Rubber
Ceramic
Raised Tile Flooring (on the surface and underneath)
Commercial flooring surfaces are made to stand up to just about anything. But that doesn't mean you don't have to care for them. Just like the floors in your home, you want to make sure you're performing regular maintenance to keep these areas looking good. Besides that, a cleaner floor is often a safer floor—something that's definitely important in a commercial or industrial setting. Call to learn more about our commercial floor cleaning in North Carolina.
Fabric Partition Cleaning
Fabric partitions are one of the most common surfaces in an office. But all too often, they're overlooked when it comes to cleaning. Cubical walls collect dust, dirt, and other contaminants over time, so wiping them down a couple of times a year isn't enough. Our professional commercial cleaners will use cleaning methods that protect the fabric while getting rid of everything you don't want floating around your office.
Windows
Dirty windows make your property look neglected. On the other hand, sparkling clean windows make any building look newer and fresher. Let the light in and give your employees and customers a better outlook by hiring us to keep your glass clean. We take all the hassle out of a job that lots of people try to avoid!
furniture
People spend more time at work than they do at home. It's no wonder that office furniture has to withstand a lot more wear and tear. Regular cleaning is the best way to get the most life out of this investment. Keep upholstered surfaces on chairs and partition walls deodorized, bright, and sanitary with our commercial furniture cleaning services.
Exterior Cleaning Services
Floor Cleaning and Waxing
Any material including:
Marble
Terrazzo
Cement
Wood
Vinyl Tile
Rubber
Ceramic
Quality flooring materials are an investment. Don't install them only to forget about them! When you hire us for commercial floor cleaning in North Carolina, our team will determine exactly what type of cleaners and cleaning techniques to use on your floors. They'll look great, stand up to the elements, and perform under the demanding conditions of your industrial or commercial facility.
Furniture Cleaning
Do you have benches, chairs, tables, or other outdoor furniture at your place of business? Keep them free of dirt, pollen, and mildew with our exterior furniture cleaning service. We'll make sure your customers and guests are left with the best impression possible of your company.
Windows (Inside & Outside)
Dirty, streaked windows block natural light from your offices and give a bad first impression. We'll give them a sparkling shine you can be proud of! We use the best methods possible to remove dirt, grime, pollen, and water stains from your windows.
Grease removal: Commercial kitchens are busy places. Over time, grease buildup will lead to an unsightly appearance and unpleasant odors. It can even create a fire hazard. Don't put your safety at risk. Call us for commercial grease removal.
Concrete
Concrete is a durable surface that works well for a variety of commercial uses. However, it can stain easily. If your concrete sidewalks, porches, or driveways aren't looking their best, we can help. Our concrete cleaning services will have them looking as good as new.
Deck Cleaning
Decks add value and extra outdoor space to your property. But the sun, wind, and rain all take their toll. Our deck cleaning services will restore the wood to like-new condition. Don't assume that your deck is old, worn, and in need of replacement. It may just need a good cleaning from our team of professionals.
Request a Quote
Fill out the form below and we will contact you shortly:
Office
125 Hillview St.
Brevard, NC 28712